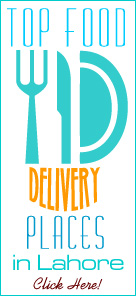 Best Breakfast & Sunday Brunch Places In Lahore


Since information can change anytime without notice, we always recommend calling to confirm before arrival.
To update any breakfast details or to add a "snob worthy" breakfast listing, click here.

PLEASE NOTE: This page is a list of "snob approved" places which also happen to offer breakfast. It has been solely designed to add more enjoyment and convenience to your life. It is not intended to recommend any specific place, as tastes, requirements and expectations vary from person to person.
CAFÉ AYLANTO
12-C/1, M.M. Alam Road
Gulberg III
Lahore, Pakistan.
Tel: (92-42) 3-575-1886, 3-571-2580

DAILY BREAKFAST | À LA CARTE | Mon-Sat 7:30 to 12:30 , Sunday: 7:30 to 3:00
ON THE MENU: Crunchy Homemade Granola, Chilled Chia Seeds, Ricotta Pancakes, Vanilla Bean French Toast, Country Style Waffles, and more.

---

CINNABON BAKERY CAFE
2B-3 Gulberg III
Lahore, Pakistan.
Tel: (92-42) 3-577-2791
DAILY BREAKFAST | À LA CARTE | 8am-Close
ON THE MENU: Cinnamon classic rolls, Caramel Pecanbon, Cinnamon Stix, Chocobon and more.

---

ESPRESSO

Defence
180-Y-Block, Commercial Area
Phase 3, D.H.A.
Lahore, Pakistan.
Tel: (92-42) 3-718-6021, 3-718-6022
Gulberg
Mall 1
Gulberg
Lahore, Pakistan.
Tel: (92) 0333-532-8872

DAILY BREAKFAST | À LA CARTE | 8am-close
ON THE MENU: Omelets, waffles, pancakes, French toast and more.

---

JAMMIN' JAVA CAFÉ
21-F Main Boulevard
Johar Town
Lahore, Pakistan.
Tel: (92-42) 3-517-7776

DAILY BREAKFAST | À LA CARTE | 10am-close

---

KIM'S
Avari Hotel
87 Shahrah-e-Quaid-e-Azam
Lahore, Pakistan.
Tel: (92-42) 3-636-6366
UAN: 111-AVARIS (111-282-747)
Toll Free: 0800-88888

DAILY BREAKFAST BUFFET | 6am-10:30am | Rs. 1290 + tax
ON THE MENU: Pancakes, French toast, egg benedicts, beef & chicken sausages, fresh seasonal fruit, cheese platter, live egg counter & local specialties.

SUNDAY BRUNCH BUFFET | 12pm-3.30pm | Rs. 2150 + tax

---

LA ATRIUM
92-93 , E1
Haali Road
Gulberg III
Lahore, Pakistan.
Tel: (92) 0322-990-0099

SUNDAY BRUNCH À LA CARTE | 12.30pm-3.00pm

---

LAHORE GATE RESTAURANT
Holiday Inn City Centre
25-26 Egerton Road
Lahore, Pakistan.
Tel: (92-42) 3-631-0077
Toll Free: 00800-9097-1005

DAILY BREAKFAST BUFFET | 6:30am-11am | Rs. 899 + tax
ON THE MENU: Continental and Pakistani dishes.

---

LUNA CAFÉ
92-93 , E1
Haali Road
Gulberg III
Lahore, Pakistan.
Tel: (92-42) 0322-990-0099
DAILY BREAKFAST | À LA CARTE | 9am-12 noon
ON THE MENU: Continental and Pakistani dishes.

---

MARCO POLO
Pearl Continental Hotel
Shahrah-e-Quaide-Azam
Lahore, Pakistan.
Tel: (92-42) 3-636-0210
UAN: (92-42) 111-505-505

DAILY BREAKFAST BUFFET | 6.30am-10.30am | Rs. 1450 + tax.

---

MASOOM'S THE PANCAKE LOUNGE
"DD" Sector 47, C.C.A.
Phase 4, D.H.A.
Lahore, Pakistan.
Tel: (92-42) 3-574-9467

DAILY BREAKFAST BUFFET | 7am-Close | Variety of Pancakes, Honey Cream, Salty Pancake, French scrambled eggs, Steak and Eggs.

---

NAMAK MANDI
Hotel One
105-A, Mall Road
Lahore, Pakistan.
Tel: (92-42) 3-636-1001, 3-630-2244

DAILY BREAKFAST BUFFET | 7.30am-10.30am | Rs. 375 + tax

---

ROOF TOP RESTAURANT
Maisonette
51-C2, Ghalib Road
Gulberg III
Lahore, Pakistan.
Tel: (92-42) 3-575-2550
UAN: 111-624-766

DAILY BREAKFAST BUFFET | 7am-11am | Rs. 299 including tax.

---

SALT 'N PEPPER CAFÉ
25 H, Gulberg II
Lahore, Pakistan.
Tel: (92-42) 3-550-3505

DAILY BREAKFAST | À LA CARTE | 8am-11pm
American Breakfast Rs 250+tax
Continental Breakfast Rs 3000+tax
Pakistani Breakfast Rs 250+tax
VIP Breakfast Rs 350+tax

---

SPICE BAZAAR
1-T, Gulberg II
Lahore, Pakistan.
Tel: (92-42) 3-575-9014, 3-575-9015

SUNDAY BRUNCH BUFFET | 12.30pm-3.00pm | Rs. 1295 + tax

---

THE SPOT
Park Lane
107- B3
Gulberg III
M M Alam Road
Lahore, Pakistan.
UAN: 111-111-124

DAILY BREAKFAST BUFFET | 6.30am-10.30am | Rs. 800 + tax

---

X2
102-C 2
Gulberg III
Lahore, Pakistan.
UAN: (92-42) 111-222-102

---

ZÉ GRILL THE ART CAFÉ
6-A-Gulberg III
Lahore, Pakistan.
Tel: (92-42) 3-575-6471,3-575-6472

SUNDAY BREAKFAST from 9am